Every Pizza. Every place. Every week.

Every week, I try a new pizza. Every week, the quest continues - the quest for the perfect slice.
For this ninth review, Finding Amore travels to Midtown Atlanta in continued search of the perfect pizza. The subject: Vinny's New York Pizza, a cozy Peachtree Street outlet that advertises itself as "the most authentic New York pizza in the South." Whether it lives up to that lofty appellation remains to be seen herein.
The surprise? The line may well be accurate. With a perfect cheese-sauce balance, a thin but well-executed crust, and a taste reminiscent of that available in New Jersey, Vinny's is easily the best pizza reviewed by this blog yet. Although the pie is slightly greasy, the sheer gustatory pleasure provided by the taste is more than enough to outweigh any minor texture concerns.
Few pizzas outside the NYC area are capable of what Vinny's seemingly effortlessly achieves. Anyone passing through the area ought to give the restaurant a try; with one of the finest pies in metro Atlanta, Vinny's New York Pizza hits an unmitigated home run.


---
Powered by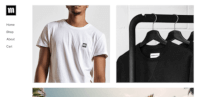 Create your own unique website with customizable templates.