Every Pizza. Every place. Every week.

Every week, I try a new pizza. Every week, the quest continues - the quest for the perfect slice.
A large franchise chain with a vaguely nonconformist vibe, Uncle Maddio's is the subject of this blog's twelfth review. The pizza is made quickly and in plain sight, a process similar to (but easier to work with than) that seen at MOD. Pies come in a wide array of toppings and sizes; whether it's good pizza, however, remains to be seen.
As it turns out, the pizza is excellent. Although the taste is somewhat similar to MOD, it comes off richer and fuller-bodied, with a more even balance of flavors; the sauce in itself is a genuine wonder. The texture, meanwhile, resembles Stevi B's, only slightly less tough and coupled with a more pleasing taste. While the cheese-sauce balance at times feels slightly off, the overall effect is undeniable; this makes Uncle Maddio's one of the best pizzas I've tried yet.
For anyone looking for a good old-fashioned pizza to pick up in a hurry, it's hard to beat this one. Despite a few problems, Uncle Maddio's falls undoubtedly among the best of the national chains; it's a pizza more than worth trying.


---
Powered by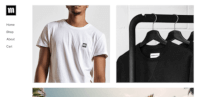 Create your own unique website with customizable templates.