Every Pizza. Every place. Every week.

Every week, I try a new pizza. Every week, the quest continues - the quest for the perfect slice.
Perhaps best known to my readers as the chosen and exclusive province of childhood birthday parties and soccer team socials, popular buffet chain Stevi B's has made its name by offering as much pizza as the customer likes at a very reasonable price. An outfit could presumably maintain itself financially on just this fact alone, regardless of the quality of the pizza, and the convenience factor must certainly be counted in its favor. However, pizza quality is the subject of this blog, and the subject of this review will be whether Stevi B's achieves it.
The crust is good, albeit rather dry. Although Stevi B's cheese has an unfortunate tendency to stick to the lining on the bottom of the pizza box, such that a not insignificant portion is torn off upon removing a slice from the box, it can't be denied that it's an excellent cheese nonetheless. As good as the cheese is, it at times drowns out the sauce; granted, the sauce is nothing particularly awe-inspiring, but an even sauce-cheese balance is important to any pizza, regardless of the comparative merits of each part.
As such, Stevi B's cannot qualify as amazing. It still has its decided virtues, though, and the added convenience factor makes it hard to resist. A pizza place with a service gimmick as attractive as Stevi B's could make money even with the most mediocre and forgettable of pies; that Stevi B's provides convenience while exceeding such expectations by miles means that, in spite of its occasional faults, this particular outfit comes highly recommended.


---
Powered by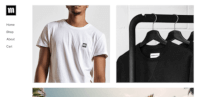 Create your own unique website with customizable templates.