Every Pizza. Every place. Every week.

Every week, I try a new pizza. Every week, the quest continues - the quest for the perfect slice.
Pizza from Rosaria's, a Kennesaw outfit, smells delicious; this becomes evident the minute one puts it in the car. However, its looks appear rather underwhelming. It comes in a plain, unlabelled box, and the pizza itself has a rather homemade look to it. Appearances, however, can be deceiving.
In this case, they most definitely are. Rosaria's may not look like much, but it packs considerable punch. The taste resembles the excellent Pizza Shack but with a toning down of its more unusual elements and a better cheese-sauce balance; there is also a hint of the inimitable Vincent's. This pizza is deeply satisfying, and I found myself wanting more even some time after I had exceeded the limit my body would normally tolerate, simply because of the pizza's exceptional taste. Perhaps most exceptionally, Rosaria's pizza preserves perfectly when frozen; a customer could conceivably eat some for leftovers the next day without losing any of the flavor,
Despite its unassuming exterior, Rosaria's is an excellent pizza, one of the best I've reviewed for this blog. Its fine cheese-sauce balance and remarkable ability to keep its flavor when frozen take it from a good pie to a great one. Needless to say, this particular variation on the venerable Neapolitan flatbread comes strongly and unreservedly recommended.


---
Powered by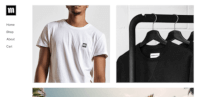 Create your own unique website with customizable templates.