Every Pizza. Every place. Every week.

Every week, I try a new pizza. Every week, the quest continues - the quest for the perfect slice.
This Dallas, Georgia, outfit makes unusually large pizzas. This is fairly obvious from the outset; even the imposing size of the pizza boxes makes that particular fact clear to the customer. Even the pie's relative thinness does little to reduce that quality. Consequently, although they're far from giant, someone looking only for a small bite may prefer another pizza if he or she isn't sharing with a group of some size.
That aside, the pizza itself is quite solid. The Shack has a most unusual taste, resembling nothing so much as the venerable shopping-mall stalwart Sbarro (possibly to be the subject of a later review). Anyone who's tried or heard of Sbarro, however, knows that this is far from a negative comparison. The Pizza Shack is nothing if not its own pizza, though, and it remains delightfully distinct. Unfortunately, the cheese does rather drown out the sauce, and the flavor can become somewhat cloying after a while. This doesn't, however, cancel out the pie's considerable virtues.
The Pizza Shack offers a solid pie, and its unique flavor makes it well worth a try, especially for consumers who may be growing tired of more "typical" pizza tastes. Although some problems make it hard to count among the best, it's more than worthy of attention.

---
Powered by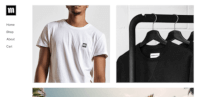 Create your own unique website with customizable templates.