Every Pizza. Every place. Every week.

Every week, I try a new pizza. Every week, the quest continues - the quest for the perfect slice.
The quest for the perfect pizza kicks off at full speed here and now - starting with north Atlanta chain Peace Love and Pizza. With the name comes the expected "hippie" aesthetic, as demonstrated in the restaurant's boxes and merchandise; perhaps cognizant of their customer base, however, the owners also placed a large American flag front and center within the "heart." This isn't a blog for pizza box reviews, though, so I'll move directly on to the matter really at hand: that is, the pizza.
The first thing one notices upon opening a box of this pizza is the grease. An amount of oil the sheer sight of which is likely to give a number of foodies heart palpitations covers a good portion of the bottom of the box. The astute designers have seen fit to add a box-shaped sheet of paper between the pizza and the cardboard in order to insulate the box therefrom. I have no intrinsic prejudice against greasy pizza, however, so the review continues.
The pizza itself is quite good. The sauce-cheese balance is excellently achieved, although perhaps tending a bit more than I would like to the cheesy side; the grease is evident in the taste, but not enough to spoil it, even, I should think, for those who normally detest such in a pizza. Although not truly remarkable, the taste is pleasurable and miles above most other delivery outfits. My sole major complaint is the thinness of the pizza; there simply isn't enough sauce and cheese on a slice to give one a thoroughly satisfying experience. Even this quality, however, will likely have it's admirers; I therefore rank Peace Love and Pizza as not one of the greatest, but certainly one of the better pizzas available in the Atlanta area.


---
Powered by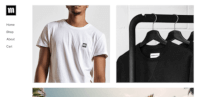 Create your own unique website with customizable templates.