Every Pizza. Every place. Every week.

Every week, I try a new pizza. Every week, the quest continues - the quest for the perfect slice.
For this review, I turn to a nationwide staple of what my youngest sister somewhat dismissively calls "fast food pizza": in this case, Papa John's. The venerable Kentucky-based chain sells itself on the promise of "better ingredients, better pizza." Better ingredients they may be; here I will seek to determine whether or not in fact they produce better pizza.
The perhaps surprising result is that they do. With an excellent, mildly sweet sauce that presents itself in abundance in just the right places, Papa John's lays the foundation for a thoroughly enjoyable product; the plentiful cheese is more than enough to satisfy cheese fans without drowning out the sauce. Granted, the crust is rather forgettable; given the quality of the rest of the pizza, however, it doesn't need to be anything more.
Papa John's is, of course, no substitute for a bona fide New York or New Jersey original, nor is it "high-end" pizza by any means. What it does do is soar miles above the admittedly somewhat low expectations of its class; it's not perfect, but there is nothing here which would truly offend the taste buds even of the most discerning pizza aficionado. With a unique taste and a perfect sauce-cheese balance, Papa John's comfortably secures its place as a genuine standout among national delivery chains.


---
Powered by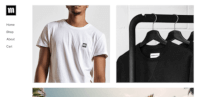 Create your own unique website with customizable templates.