Every Pizza. Every place. Every week.

Every week, I try a new pizza. Every week, the quest continues - the quest for the perfect slice.
This isn't the first time I've reviewed a pizza with a name associated with a historic cultural movement. However, from what I understand, MOD Pizza has about as much to do with motor scooters and the Who as Peace Love Pizza has to do with tie-dye and the Beatles. Which is to say, very little.
Enough with the naming commentary, however. The outfit has an unusual ordering system; one enters and orders a customized pie directly from one of the cooks, who will deliver the pizza to one's seat when finished. This system initially seems like a good idea, one that fosters interaction and customization. However, in reality it tends to be rather confusing, especially as the cash register is not positioned intuitively with regard to the ordering area, and few customers will likely be familiar with the novel system upon arriving.
The pizza itself is fairly small and wood-fired. This should draw instant comparisons to Brixx, comparisons which are fully merited; both outlets have a similar style, format, and taste. Like Brixx, the taste is generally excellent, with a particularly well-done sauce. Unfortunately, the cheese tends to rather drown out the sauce here, and the crust at times seems a bit less than ideal. However, it remains a solid, well-executed pizza.
Given the fact that Brixx produces what is essentially a better version of the same product, it's hard to recommend this over it. However, if you're unable to get to a Brixx or want to try something slightly different, MOD Pizza is more than well worth your time.


---
Powered by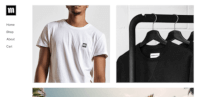 Create your own unique website with customizable templates.