Every Pizza. Every place. Every week.

Every week, I try a new pizza. Every week, the quest continues - the quest for the perfect slice.
For this, the eighth installment of Finding Amore since its August inception, my quest takes me to Mellow Mushroom, a large, "groovy" sit-down chain known for large pretzels, calzones, and 1960s-inspired theming. As charming as these aspects may be, the subject of this blog remains pizza, and so it is the quality of the restaurant's pies that serves as the focus of this review.
Perhaps the first thing one notices about Mellow Mushroom is the crust's distinctive, pleasant taste, a result of the chain's practice of coating it with garlic butter. The sauce is excellent and rarely drowned out by the cheese, although a few notes are a bit off; the cheese is also good, though nothing particularly distinctive. Mellow Mushroom's pizzas are quite large and may be too much so to be consumed in one sitting, but the taste preserves quite well when refrigerated - in fact, much better than most pizzas I've tried.
Mellow Mushroom isn't the greatest pizza I've ever had. But it certainly ranks in the top quartile of those I've reviewed for this blog, and its taste is distinctive enough that it's an experience not worth missing. The pizza here comes heartily recommended.


---
Powered by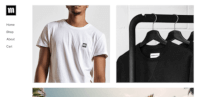 Create your own unique website with customizable templates.