Every Pizza. Every place. Every week.

Every week, I try a new pizza. Every week, the quest continues - the quest for the perfect slice.
This Detroit-based chain's longtime slogan "Pizza! Pizza!" ("Two Pizzas!" in Canada) once referred to the outfit's former packaging gimmick of serving two pizzas in one container. This particular meaning is no longer true, but the description continues to hold for the pizza's pricing: at five bucks a pie, one could easily buy two or even in some cases three Little Caesars pizzas for the price of one from another vendor. This alone, along with the chain's "Hot-N-Ready" model, in which pizzas are offered inside for customers to carry out, would make it an unsurprising hit with consumers pressed for time. However, even at Little Caesars' low prices, the question still remains as to whether the quality is worth the money.
In general, it (somewhat surprisingly) is. Granted, it's unspectacular, and the sauce-cheese ratio could use work. But Little Caesars does more than enough to satisfy hungry taste buds, and the flavor (enhanced and marked apart by the chain's somewhat unorthodox use of Muenster cheese) is pleasantly distinctive enough to make it a memorable experience. Taste can, in my experience, vary from pizza to pizza; overall, however, Little Caesars delivers plenty of bang for the buck.
Little Caesars won't win the next award for thorough pizza excellence. It's more than sufficient for a pleasant eating experience, however, and in a five-buck pizza, it's hard to ask for any more.


---
Powered by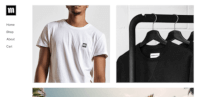 Create your own unique website with customizable templates.