Every Pizza. Every place. Every week.

Every week, I try a new pizza. Every week, the quest continues - the quest for the perfect slice.
A moderately large Georgia franchise chain, Johnny's nonetheless has a slightly more highbrow air than most of the pizza vendors this blog has visited so far. The restaurant was founded by a New Yorker, and the pizzeria's name promises to recall the distinct and popular flavors of that area; whether Johnny's does so and does so successfully is the subject of this review.
The excellence of the pizza is immediately noticeable. Plenty of well-made sauce gives the pie a strong, distinctive flavor, while just enough cheese is added to balance it out. The unusually thick but otherwise unremarkable crust completes the pizza, albeit somewhat unsatisfyingly; although the taste is far from perfect, it is strikingly good for a local chain.
Johnny's doesn't attain complete brilliance, but it stands as an excellent pizza for those seeking a slightly more formal, intimate restaurant experience. It must unfortunately be faulted for its failure to live up to its name; despite the promise of "New York style" deliciousness, Johnny's has more in common in its taste with Papa John's than with most pizzerias in Manhattan or Hoboken. Nonetheless, it does achieve some approximation, and it's a high-quality pizza in a high-quality venue. What more could one ask?



---
Powered by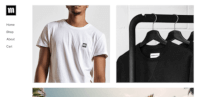 Create your own unique website with customizable templates.