Every Pizza. Every place. Every week.

Every week, I try a new pizza. Every week, the quest continues - the quest for the perfect slice.
Jet's is a chain best known for its popular deep-dish offerings; for this review, however, I opted to go with their more conventional New York style pizza. The pie may seem small but is in fact quite filling; the taste, of course, is a separate question.
The cheese is an instant standout, with a taste far superior to those of most other chains; this would seem to confirm the chain's frequent advertising of its high-quality mozzarella. Granted, the sauce, while good, isn't much to write home about, and the cheese-sauce balance is slightly tipped in favor of cheese. Especially with the quality of cheese, however, that last isn't much of a problem, and even the pizza's slight greasiness doesn't detract from its general excellence.
Overall, Jet's has created a fine product, a pizza that, while not quite stellar, nonetheless stands out unmistakably from the crowd. Kudos to them on a job well done.


---
Powered by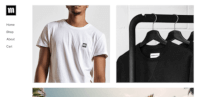 Create your own unique website with customizable templates.