Every Pizza. Every place. Every week.

Every week, I try a new pizza. Every week, the quest continues - the quest for the perfect slice.
This Tennessee-founded chain is likely more recognizable to readers for its general Italian cuisine than for its pizza. Nonetheless, the latter is the main component of its title, and so I arrive at Gondolier for this, my first review of February 2018.
The taste, while not precisely bad, is decidedly underwhelming. The cheese drowns out the sauce to the point of the latter's being barely noticeable; were the cheese particularly exceptional, this might be acceptable, but in fact it possesses no especially memorable qualities. This combines with a slightly tough texture and a hint of unpleasant greasiness to make the pie, while again still to some extent enjoyable, one rather worth forgetting.
In a pinch, Gondolier will do as well as any other pizza, and it does have its virtues. However, next to some of the truly exceptional pizzas I've reviewed in the past, it's hard to justify a full-throated recommendation.


---
Powered by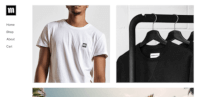 Create your own unique website with customizable templates.