Every Pizza. Every place. Every week.

Every week, I try a new pizza. Every week, the quest continues - the quest for the perfect slice.
For this review, I try, for the first time in some while, the well-known chain Domino's. The box proudly proclaims its contents as a "great pizza;" my goal herein will be to ascertain the truth of that assertion.
The pizza is in fact surprisingly pleasing. The crust in particular is excellent, with a unique flavor and an alluring hint of garlic butter. Granted, the cheese tends to overpower the rather weak sauce, and despite the box's paeans to the glories of Domino's cheese, that particular aspect is in fact rather underwhelming; overall, however, Domino's does a considerably better job of producing a memorable pie than one might expect.
Domino's is far from perfect. For a national delivery chain, however, it most certainly takes a credible, if not brilliant, place.


---
Powered by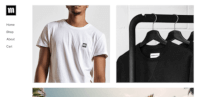 Create your own unique website with customizable templates.