Every Pizza. Every place. Every week.

Every week, I try a new pizza. Every week, the quest continues - the quest for the perfect slice.
For this week's review, I ventured slightly outside the norm to North Carolina-centered sit-down chain Brixx. Given the promise of the name, expectations were high; they were not disappointed.
The pizza is fairly small but not cripplingly so; a single consumer could easily eat an entire pie in one sitting, but it still remains quite filling. The sauce-cheese balance is good though not perfect; what truly makes the pie, though, is the distinctive and delicious flavor of the sauce. Brixx's cheese is also much better than most, and the crust, though too thin to form a significant part of the experience, is well above serviceable.
Brixx offers a unique style of pizza and of consuming it to those seeking a more traditional restaurant experience. While the pizza's small size and thinness at times leave it slightly unfulfilling, it remains an excellent and thoroughly distinctive pizza experience and, if I may say so, quite possibly the best pizza I've reviewed yet for this blog.


---
Powered by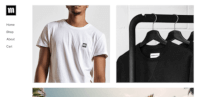 Create your own unique website with customizable templates.