Every Pizza. Every place. Every week.

Every week, I try a new pizza. Every week, the quest continues - the quest for the perfect slice.
Big Pie in the Sky's pizza is big. Not just slightly larger than average, not just oversized, not just a bit cumbersome—this outfit's largest offering is almost the size of a standard kitchen stove. Of course, they do offer pizzas in smaller, more normal sizes—but if one were looking for a smaller, more normal pizza, then why would one come to Big Pie in the Sky?
As a matter of fact, the first taste reveals that there are a number of reasons one might do so. The brashness of the pizza's size and name is balanced with a subtle, pleasing flavor that seems to hit an admirable balance between the unique tastes of Vincent's and Pizza Shack. The pie achieves similar balance in its excellent sauce-to-cheese ratio, and while Big Pie in the Sky never quite reaches the echelons of greatness, it most certainly stands out in a good way from the crowd.
Its size gimmick may at first seem its main recommending quality, but this pizza has far more than just that that's worth writing home about. It's not perfect by a long shot, but this restaurant offers exceptional, high-quality pizza that very much deserves a try. In other words, Big Pie in the Sky makes a big success of a pie.


---
Powered by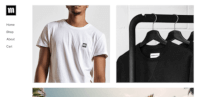 Create your own unique website with customizable templates.